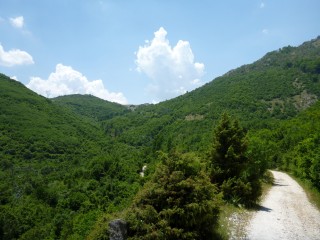 On the day I crossed into Macedonia I met four other touring cyclists on the road. An Italian–whose name I forget–who was headed to Greece for the summer; a couple from Estonia, Priit and Ãœlvi, who are a couple months into an ambitious tour around the world, blogging at
circumcyclers.eu
; and Andreas, a German cyclist traveling light and following the route of the ancient Via Egnatia. Andreas was headed to Bitola to pick up the route where he had left off on a previous trip so we rode together and then he showed me around Bitola, pointing out items of historic note that I would never have realized such as the mosque built by the Ottoman architect
Sinan
. The mosque was sadly run down, but renovations financed by the Turkish were due to begin within the week. The Ottoman influence was clear in many of the older buildings in Bitola, evidence of the town's long history as an important center.
I took the old road from Bitola to Prilep, a short, pleasant ride through farmlands. In Prilep I stayed with another avid cyclist, Kire, who introduced me to a bit of Macedonian culture. I also had a chance to meet Rante, who rode a loop around the former Yugoslavia last year and runs the to4ak.com site about bike touring in the region. Between Kire and Rante I got some very useful routing advice for the Balkans and some encouragement to tackle the mountains in Montenegro.
Kire biked with me for the morning on my ride out of Prilep. The road became a rocky dirt track up into the hills. We stopped for water at an old monastery then at the top of the pass Kire turned back for home and I rode on north. Despite the rough road the route was a delight, the only other people I saw for several hours being a few men with horse-drawn carts collecting firewood.
I rode on that day through Veles where I got a few pictures of a cultural and musical event I know nothing about, then camped next to a lake near some friendly people from Skopje.
Skopje itself seemed an odd place. A large city of concrete apartment blocks and grand monuments and statues. Unfortunately the center of the city feels a little over-done and glossy. As if a Las Vegas architect had been contracted to renovate it.
On the far side of Skopje I took a short detour to see Matka Canyon, then headed northwest and finally ended up pushing my bike up another rocky track in the hills above Radusha. I camped for the night on the hilltop then headed into Kosovo the next morning.