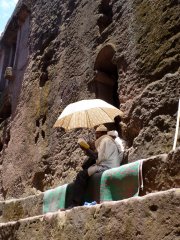 My two days in Lalibela have been a blur of churches after churches. There are at least 11 ancient churches in the town — most of which are carved out of the rock — dating back to the 12th century. I also enjoyed a long, bumpy drive yesterday out to the cave church of Yimrhane Kristos and an early morning hike today up to the monastery of Asheton Maryam. Lalibela is at an altitude of 2600 meters and Asheton Maryam is up at 3200 meters. So I was gasping a fair bit while Destaw — a church deacon and great tour guide — waited for me.
This afternoon I went back to the main group of churches to listen to part of the Good Friday celebration. To an outsider there didn't seem to be a lot of formal organization to the event. The priests and deacons recited and chanted while occasionally some in the crowd joined in or responded. Much of the time people sat and listened, prayed, read, or even talked amongst themselves while the chanting echoed round the tunnels and rock walls of the churches.
As a faranji — or foreigner — one can't simply blend in with the crowd on the street or in the church courtyard so my day was also filled with lots of questions about where I'm from, whether this was my first time in Ethiopia, what I do for a living, and so on.
I took a lot of photos and may be posting too many of them. Unfortunately the interiors of the churches were crowded and dimly lit with fluorescent bulbs so there aren't many interior photos that came out. Hope you enjoy the ones that did.