(AKA, where the **** is Steve?)
[You can listen to Camper Van Beethoven for the appropriate background music.]
Well back in the mists of time, when I was in high school in Nigeria, a couple of bicyclists showed up one week. They had ridden from Europe, across the Sahara. I don't recall their names, starting point, or where they were headed, but hearing them talk about their trip planted the seed of an idea that has stuck with me ever since. I couldn't imagine actually bicycling that far, but I day-dreamed of riding a motorcycle across the Sahara.
I never ended up getting a motorcycle, but I have since then ridden several long distance bike tours in the United States and one short tour across Senegal. I've found that bicycling is one of the best ways to experience the variety of a country's landscape and culture — especially that of rural areas and small towns that so often get missed when traveling by car or plane.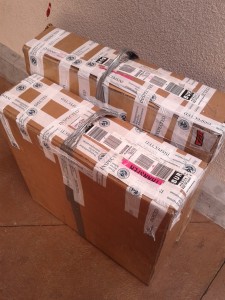 Call it a mid-life crisis if you like, but the occasion of turning 45 seemed like the appropriate time to revive my dream of biking across the Sahara. So that's what I'll be doing for the next few months.
Two weeks ago I left my job as an IT Engineer with Cayuse, a great little software company in Beaverton, Oregon. (By the way, they're hiring software engineers if you're looking for a position.)
This week I'll be flying to London, UK, where I'll stay with a friend for a couple days. I'll unpack and rebuild my bicycle from the boxes it is now in, and then set off southward by bike. I plan to take a ferry to Brittany and then ride through France and Spain. I'll take another ferry across the Strait of Gibraltar (or near there) to Morocco, then continue south via Mauritania to Senegal.
I'll be posting photos and updates on this site as I go along, depending of course on the availability of Internet access. You're welcome to follow along. Feel free to ask questions or post comments. Thanks.
-Steve

View Africa bicycle trip plan 2011 in a larger map