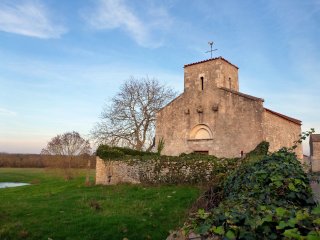 After an enjoyable stay with Patrice and Lucie in Redon, I followed the canal tow-path to Nantes. It was Armistice day, so I saw a great number of fishermen out lazing by the canal. I also passed a few hunters and one dog intent on carrying a pheasant back to them.
Near the Erdre river I left the canal path to follow the EuroVelo 1 bike route into Nantes. As usual when following a bike route, the results were mixed. I love the idea of a bike route, but too often the routing they use to avoid traffic results in twice the distance. And if you happen to miss a turn, you're usually out of luck. So after a while I gave up on the bike route and took secondary roads into the city.
Nantes is the first town I've hit in France which felt like a multicultural city. Quite a change from the little villages of Brittany. Once again I stayed with a couple I had contacted via warmshowers.org, Jacques and Thérèse. Once again I was overwhelmed by generosity and enjoyed long discussions over multi-course excellent French dinners.
I took a day to wander around Nantes and pick up a few things. I swapped out my pedals at a bike shop since the bearings on the old ones seemed to be unmaintainable. I had already repacked the bearings once and the squeaking and clicking was starting to get on my nerves.
Thérèse suggested that my next stop could be at her uncle's place about 100km southeast. So yesterday morning Jacques joined me for some cycling and guided me out of Nantes via some quiet back roads. After a couple hours we stopped for a coffee and then he headed back and I continued south.
I'm definitely seeing some differences from Brittany now. More painted houses, clay tile roofs rather than dark slate, occasional palms in peoples' yards. And now I've reached the coastal plains, enormous flat fields separated by canals and marshlands. I arrived at the comfortable country house of Mr. and Mme. Bounolleau (Thérèse's uncle and aunt) and again experienced wonderful French hospitality. Mr. Bounolleau is a retired farmer and still has an extensive garden and a couple dozen chickens in the back yard.
Today's ride into La Rochelle started out promising, but several construction detours and a constant headwind slowed me down some. Still, the countryside is beautiful. More apparently endless fields and marshlands, with the sea close, but never quite visible.