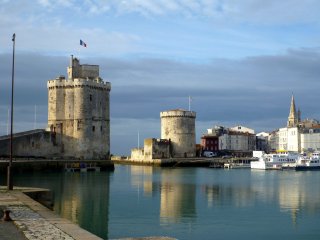 I had stopped for the night at an inexpensive hotel along a major road on the outskirts of town so I didn't see much of La Rochelle until the next day's route took me through town. I'm constantly finding places along this trip where I would love to spend more time and La Rochelle is certainly one of those with its narrow busy streets and fortified harbor. But having already taken a few rest days recently I pushed on down the coast. La Rochelle itself seemed very well off, but just south of town along the beaches I found several miles of what seemed to be abandoned housing. I've seen areas that were closed for the winter season, but this looked like something else: plywood over the windows, graffiti on walls, and overgrown lawns.
A little further on I found myself traveling through traditional resort-area beach fronts. Many of the buildings were empty, but clearly only for the season, not boarded up. After a while, the beach front gave way to more farm land as I went inland across a peninsula toward Royan. I spent the night in a backyard campground in the midst of farms overlooking Royan.
The next morning I rode into Royan, took a leisurely breakfast at a cafe downtown then headed to the port just in time to see my ferry pull away. Next time I'll be sure to check the ferry first, before breakfast. I loitered at the harbor for two hours waiting for the next ferry to take me across the bay to Pointe de Graeve.
On the south side of the bay I found myself in a very different France. Leaving Pointe de Graeve, I took the bike path that extends all the way down the coast to Bayonne. Other than occasional, mostly shuttered, touristy beach villages and the towns around the bay of Arcachon the next few days of riding were in isolation. The path runs through sandy, coastal pine forest for mile after mile. The ocean waves were often audible, but hidden by dunes and forest to my right. The forest to my left stretched out as far as I could see. I passed sandy, rutted fire roads, often with hunters' vehicles parked at the access points. I heard the hunters' gunshots intermittently, but seldom saw them. After being always within sight of a village or farm house the isolation was striking.
I made good time on the mostly well signed path, but due to a cold rain and my two hour ferry delay, I gave up attempting to make it to my warmshowers hosts' house in Audenge and took a hotel room in Lacanau-Ocean. This gave me plenty of time to sight-see the next day on a short ride to Audenge, where I spent more time lounging at the harbor and at a cafe waiting for my hosts to get home from work.
I finally met Phil and Fabienne at their house along with their adorable kids, Ulysse and Flore. We spent the evening talking about our various travels and they told me about the work they had done building an addition onto their home using only natural materials: straw bales, mud, limestone, and wooden support beams. Straw bale construction has always interested me, so this was great stuff.
The next morning, they headed off to work and I continued south down the coast, the route again including long stretches of quiet forest and dunes. Reaching Mimizan, I pulled into a municipal campground only to find that it was closed. It was too late to continue, so I lingered about until no one was around then hopped the fence and set up my tent for the night. I was a little nervous about camping illegally, half expecting to be disturbed by the police or kids out drinking. Indeed at midnight I was woken by what sounded like whispering, snorting, and drunken laughter. I finally stuck my head out of the tent to see what was happening and found a family of wild pigs rooting around next to me. I shone a light on them and they ran off and the rest of the night was quiet.