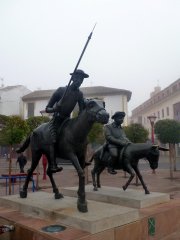 A quick update before I forget everything and while I have Internet access…
I rode out of Madrid on a Sunday morning which was nice as the traffic was light. The most memorable thing was getting lost in a shanty town on the southeast outskirts of the city and then a new development which was not well marked on my map. But thanks to another bicyclist I found my way around the freeways and train tracks.
The first night I slept at a fancy and busy campground in Aranjuez. Felt like the KOA of Spanish camping.
Then I had a lovely day of riding in La Mancha: flat, sunny, light tail wind. Followed by a dreadful day of riding in La Mancha: gradual climb, cold and foggy, headwind.
The next day I finally broke out of the fog in the late morning, went up and over the edge of the plateau and down into the hilly, endless olive groves of Andalucia. This is the part where any half-respectable town seems to be built on the top of a hill and only approachable via switchbacks. But the riding has been decent and the views spectacular. I've spent the last two days riding through olive groves which run out to the horizon in all directions. It's harvest time so I've also run into traffic jams of tractors and Land Rovers full of olives and field workers respectively. Stealth-camped one night in an olive grove without incident. Especially as I made sure to get up early to avoid any surprise visits from the harvest crews.
I've now made it to Puente Genil and face another range of mountains before I get to the coast at Algeciras.