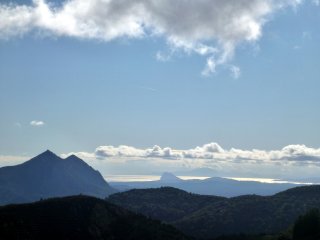 Another quick update…
I left the hostal in Puente Genil after a good breakfast of coffee and toast with olive oil and tomato sauce. Rolling south I gradually climbed a little as the mountains came into view, but for the first part of the day I had a nice, strong tailwind. This seemed to be a constant feature as there was an abundance of wind turbines along the route.
After crossing the reservoir Embalse del Guadalteba-Guadalhorce my route took a sharp right and the climbing began in earnest. This is also where the lovely tailwind swept around the hills to become a headwind. Funny how that happens. I'm also convinced more than ever that when Michelin maps indicate a scenic stretch of road they simply mean steep.
Upon reaching Cuevas del Becerro, the climb got even steeper as the road headed up the side of an escarpment — similar to my experience heading up to Urbassa, but this time I had more daylight left to work with. The top of the pass came at 880 meters or so, and then I had a nice ride — mostly down — toward Ronda. I stopped at the first campground I saw, about 3 miles outside of the town itself and spent the night in the tent.
I enjoyed an end-of-the-day cup of coffee at the campground bar while a host of children loudly enjoyed a Christmas party, complete with waiter and waitress in Santa outfits.
My appreciation for a surprisingly un-cold night was dampened by rain, but the morning was nice and I packed up my wet tent to continue. A little further on I passed another campground which seemed a bit nicer than the one I had stopped at.
Ronda itself looked like a lovely city in a stunning mountainous setting. It also is clearly a tourist town. I saw busloads of tourists taking pictures of the town's bull fighting ring, and there are more hotels, restaurants, and bars than you can shake a stick at. Continuing out the southwest side of town I passed yet another campground and saw signs for a possible fourth in town itself. No shortage of lodging options.
Ronda sits on a sort of saddle, I had crossed one pass to get into the area and then had another to cross to get out the other side. The second one took me up to 1000 meters and a desolate windswept landscape. The climb wasn't too bad, though, and I appreciated the ride down the other side.
The descent took me down and up through valleys and ridges until suddenly I got a wonderful view right out to the sea with the Rock of Gibraltar on the coast and the mountains of Morocco far out on the horizon. I rolled on down to Gaucin where I found a really inexpensive hostal with a staggering view and decided to make it a short day. Also in Gaucin I ran into a pair of bicycle tourists from the Netherlands headed up the hill on a tandem. Forgot to get their names or picture, but they're the first bike tourists I've seen since the American in Nantes.
The next day I didn't have far to go and my warmshowers hosts in San Roque would not be available until 8pm, so I took a side trip up to the beautiful castle at Castillo Castellar. A colony of artists seems to have settled in the castle interior and it's a great place to wander around in.
I arrived in San Roque at last and met Zigor, one of my warmshowers hosts, at a cafe near his house. I've had a great couple of days here, riding into the strange territory of Gibraltar and just relaxing and planning the next stage of my trip.
Tomorrow I'll bike to Tarifa and catch a ferry from there to Tangier. Morocco awaits.