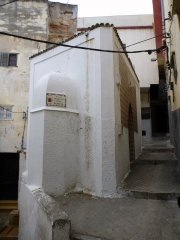 After a little research I realized that the ferries from Algeciras do not go to Tangier itself, but to a port called Tangier-Med some distance to the east of the city. Rather than make that trip, I decided to bike to Tarifa at the southern tip of Spain and take a ferry from there directly to the city of Tangier.
I took my leave of Zigor and Maria who had graciously let me hang about at their place for a few days. The biking was good although once again in an attempt to avoid busy roads I found myself on steep winding ones instead. I arrived in Tarifa in the early afternoon, found the post office, shipped my maps of Spain back to Portland, and then headed to the port. The next ferry was at 4pm and only took a little more than half an hour to cross the strait.
I debated whether it was a good idea to arrive in Tangier in the late afternoon, but decided to go ahead. Ultimately, taking the ferry into Tangier was not anything like the crazy chaotic experience I had been lead to expect. I had expected something like Nigeria's Kano airport, but instead, I rolled my bike off the ferry, the police asked me a few questions, looked at my passport and then waved me through. I went straight to a hotel near the port which I had figured out ahead of time and only one fellow tried to offer to guide me anywhere.
My strategy currently is that upon entering a new country, I'll head to a big city and stay there for a couple days until I get my phone connected to the local system. For Tangier, I decided to get a taste of history and stay at the old, ornate, Hotel Continental. Reputedly William Burroughs and Winston Churchill both stayed here (at different times I presume). It's the kind of place where the staff where uniforms, but workmen might show up to the rooms next to yours and start hammering the doors out of their frames. Whole sections of the hotel appear to be unused at the moment and I spent some time this morning wandering the empty hallways looking at old framed photographs. Last night I turned on the lights in my room, they flickered a bit, there was a bang and smoke started pouring out of the TV (which hadn't been on). The power seems a little more stable today.
This morning I met a Senegalese man, Mahmadou, who insisted on guiding me around the medina — the old part of the city. I tried to say no for a while, but then figured I might as well have someone show me around. I'm glad I did, Mahmadou is a nice guy and I got oriented and saw several things I would have certainly missed. One of these was a visit to the tomb of Ibn Battouta, certainly a candidate for the patron saint of bicycle tourists!
The rest of the day was consumed with trying to get a working data connection on my phone, with no luck so far. I'm beginning to think of phone companies as my nemeses on this trip. I'm going to stick around for another day tomorrow and try to get that sorted out. I'm also feeling a little exhausted from all the traveling and cultural change, so staying here for a few nights is quite appealing.