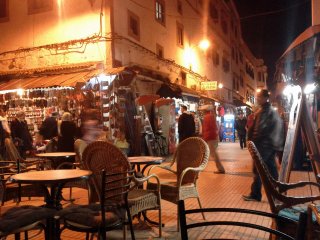 After spending New Years day in Casablanca I rolled out of town along the posh coast to the southwest. With a number of KFC's and McDonalds, a TGI Fridays, and an enormous shopping mall I felt more like I was riding out of Santa Monica than Casablanca. The road to El Jadida passed a number of small towns, expensive resorts, and resorts under construction, but in general did not seem very exciting.
I slept in a campground in El Jadida where quite a number of Europeans were congregated. I was the only one with a tent, most had camper vans, and a couple had hefty four-wheel drive rigs that looked ready for a desert crossing. In the morning I picked a handful of snails off the tent and then continued southwest along the coast.
Most of the road to Oualidia is low-lying coastal farmland. I crossed paths here with the first other bicycle tourist I had seen since San Roque, Spain. The cyclist, Anders, was from Germany and headed north completing a loop from Casablanca to Marakech to the coast and back. Nice to see that I'm not the only one out traveling like this.
Oualidia is a stunning town, partly built out on a beach wrapped around the mouth of a lagoon and partly built up on the bluffs overlooking the beach. I couldn't resist the option for a beachside hotel and found a great deal on one with a back door opening directly onto the dunes.
From Oualidia, the road mostly follows the ridge line along the bluffs overlooking a narrow strip of farmland next to the ocean. This is a beautiful route, but I was happy to have a light tailwind as there's little vegetation to block the wind and sun.
I spent the next night camped in Safi, a major industrial town, then got up early to make a long day of it to Essaouira. The ride was good, but at about mid-day a teenage boy flagged me down to see if I knew what to do for a stray dog that had been hit by a car. With no way to transport it, minimal communication ability, and a very simple first aid kit there was little I could do other than provide some water. Eventually I had to leave the boy and some others who came by to take care of the dog. I rode on sobered, but also somewhat heartened by the care shown for this stray, flea-ridden animal.
In case you're concerned, my feeling riding the roads here is that for a cyclist they are generally as safe as in the US if not safer. Yes, there is a lot of weaving around as cars avoid potholes, and yes the intersections seem chaotic until you get the feel for them. But these things tend to slow down traffic and drivers are prepared to find pedestrians, donkeys, horse carts, and even the odd bicycle tourist taking up part of the lane.
Essaouira is a lovely port town with a long, windy beach and a medina packed with tourists. I found a room in a privately owned house — a sort of mini/unofficial hotel — and settled in for the weekend. I will be meeting Pieter in Agadir after he gets his visa for Mauritania so I had a few days to wait and this seemed like a good place to do it. There's been a lot of strolling around narrow, winding streets, eating at hole-in-the-wall restaurants, and drinking coffee by the beach in addition to the chance to enjoy tea prepared by Rachida, the hostess of the house.
This morning I ran into yet another touring cyclist — Julian, from Lilles, France — who has been on the road for four months, is also headed south, and hopes to eventually reach South Africa. He left for Agadir today so he'll be ahead of Pieter and I, but we may see him again down the road.
Tomorrow I'll head out for what I expect to be a two-day ride to Agadir. More updates as they come in…