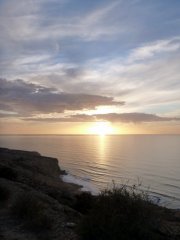 After several days off the bike in Essaouira I finally dragged myself back onto it and headed south again. The route headed inland from the coast and up into the western foothills of the High Atlas range. The first real hills I had run into since Tangier. This is also Berber country and the houses seemed to reflect the slightly different style.
I didn't have a specific destination in mind, so when I reached Tamanar in the late afternoon I started asking about places to camp. A gas station attendant suggested a campground at Imsouane some 30 kilometers further. It was a bit far, but sounded like an interesting place so I pushed on. Imsouane turned out to be 15 kilometers off the main road back to the coast. The ride down from the hills to the ocean as the sun was setting was spectacular and well worth the extra distance.
There's not much at Imsouane other than a campground, a few auberges, and a collection of houses around a couple restaurants catering to surfers. Most of the other folks at the campground appeared to be there for the surf.
The next morning I paid for the nice ride down to the coast with the toughest climb I've had yet on this trip. The road seems to go straight up from the town to the highest, most scenic overlook in the area. A gorgeous view once I was able to catch my breath.
The rest of the route toward Agadir continued through rolling hills and grazing lands out to the coast again. I stocked up on honey from a roadside seller and fruit from a bustling market in Tamri.
Approaching Agadir I soon found myself in tourist sprawl, with hotels and surf schools every few kilometers it seemed. Agadir turned out to be a large, busy, very modern city. I called my contact, Bart, and then waited for him at a cafe.
Bart found me after he was done with work and we went to his apartment where I met up with Pieter, the Belgian cyclist. Pieter and I had been communicating by email for a while about joining up for the ride across the desert. Bart is a friend of a friend of Pieters and is spending a year in Agadir working with the water company. Bart generously allowed us to use his place as a base for preparing for the next section of the trip. Apparently it's common for apartments here to be large enough for a whole family so Bart had a couple extra rooms we could use to spread out our bikes and equipment.